MOSL's Peer Comparison League Tables, which summarise overall performance, now include retailer/wholesaler pairings. The tables are presented with the caveat that trading parties have adopted different approaches to challenges imposed by COVID-19.
Over the course of the year, the market conditions varied according to sector and region, and customers were impacted by Government restrictions and the associated emergency legislation differently and at different times. It is important to consider this when comparing performance across the year and across the market.
Continued reporting and Peer Comparison League Tables showed that market performance continued to rise, although it should be noted that there were fewer MPS and OPS tasks than the previous year.
The year ends with standards on a steadily improving trend. The sudden rise in the overall MPS performance at the start of 2020/21 is due to the implementation of CPW078/CPM020: 'Priority Performance Regime Changes for April 2020'. Read an explanation of this change and its impact.
The standard in the above summary with the greatest volume of tasks (and therefore largest impact on performance overall) is MPS 18. This standard drives the requirement to take biannual meter reads. The extension of the deadline by 60 business days gave trading parties more flexibility to carry out their responsibilities. An increase in the overall cap for performance charges, coupled with a drop in charges for failing this specific standard, sought to incentivise greater task completion.
Before the priority changes were implemented on 1 April 2020, MPS 18 was assigned two time parameters: 140 business days to submit a meter read before the task was recorded as "failed" and 160 days to submit the meter read before a charge would be raised for failing the standard. The Priority Changes established a single window, giving the retailer 200 business days to submit a meter reading before a charge was raised. Any tasks approaching the end of their original 140/160 business days window on the 1 April 2020, received an extension of up to 60 business days (to the end of June) to submit the meter read. This meant that there were no failures for MPS 18 between April and June and therefore performance for this standard was 100 per cent.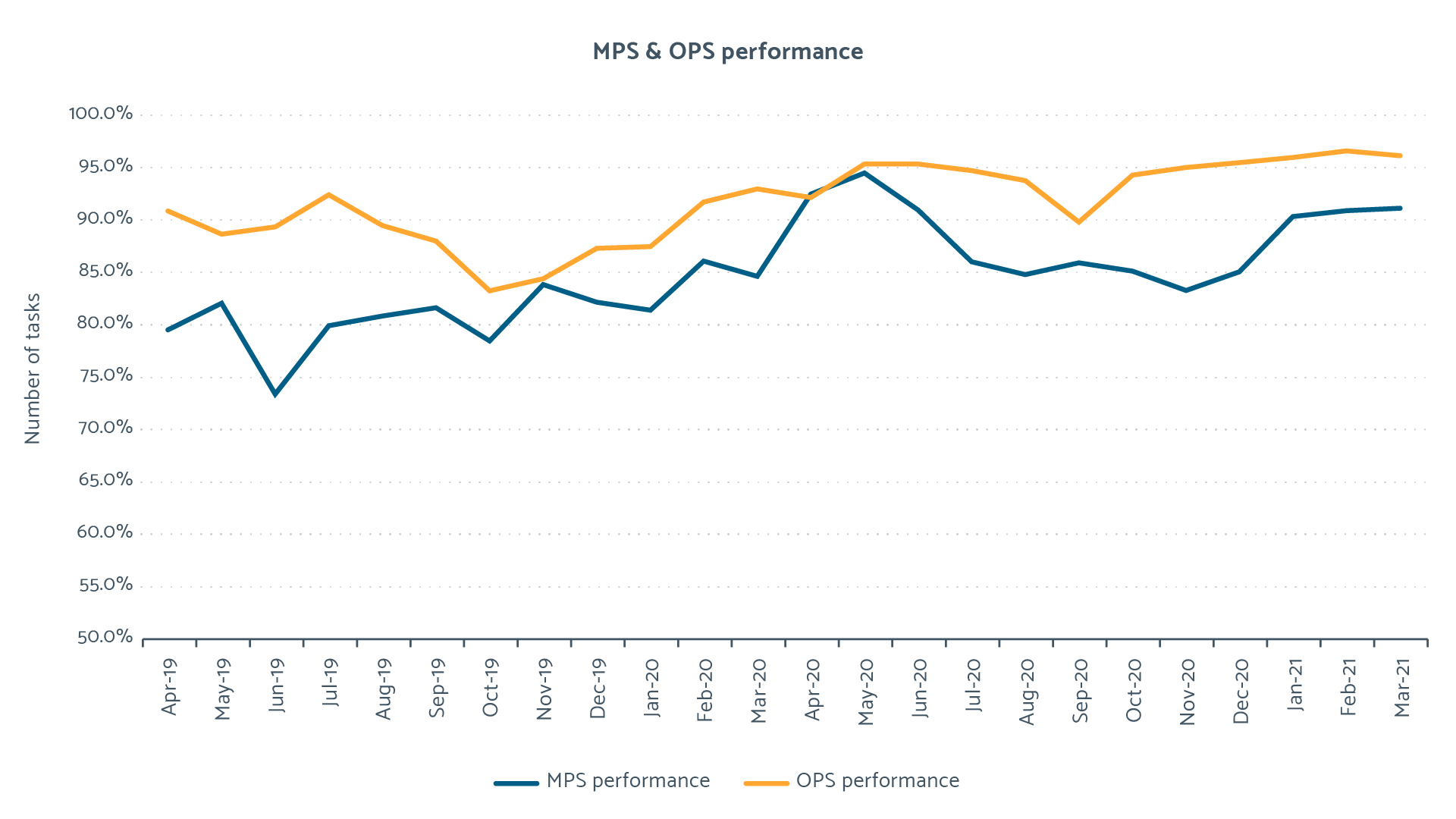 Overall task volumes provide insight into market activity during prolonged periods of lockdown. The task levels are representative of the ability of trading parties to access meters, engage with customers to repair or replace meters and provide context for the performance levels associated with the tasks.
MPS activities reduced immediately when the first national lockdown was introduced but recovered to pre-COVID-19 levels once lockdown was eased. Regional and subsequent national lockdowns reduced this recovery as shown in the MPS Task Volume chart.
OPS activities were reduced at the same time. These took longer to return to pre-COVID levels and quickly dropped again when the tiered regional lockdowns were announced, as shown in the OPS Tasks Completed chart.